NDHHS Division of Behavioral Health
FY 18 Mental Health (MH) and Substance Abuse (SA) Services Contracted Through Regional Behavioral Health Authorities (Regions)
The Nebraska Department of Health & Human Services (NDHHS) Division of Behavioral Health is designated by federal and state law as the state's single authority for mental health and substance use disorders. The Division directs the administration and coordination of the public behavioral health system.
Nebraska is split into six Behavioral Health "Regions." These are local units of governments that the state partners with to do planning and service implementation for behavioral health. The Regions purchase services from providers in their area. If necessary, services are purchased from other service providers across the state.
The map below shows Nebraska's Behavioral Health Regions. The table that follows provides contact information for each Region. 
For updated information, visit dhhs.nebraska.gov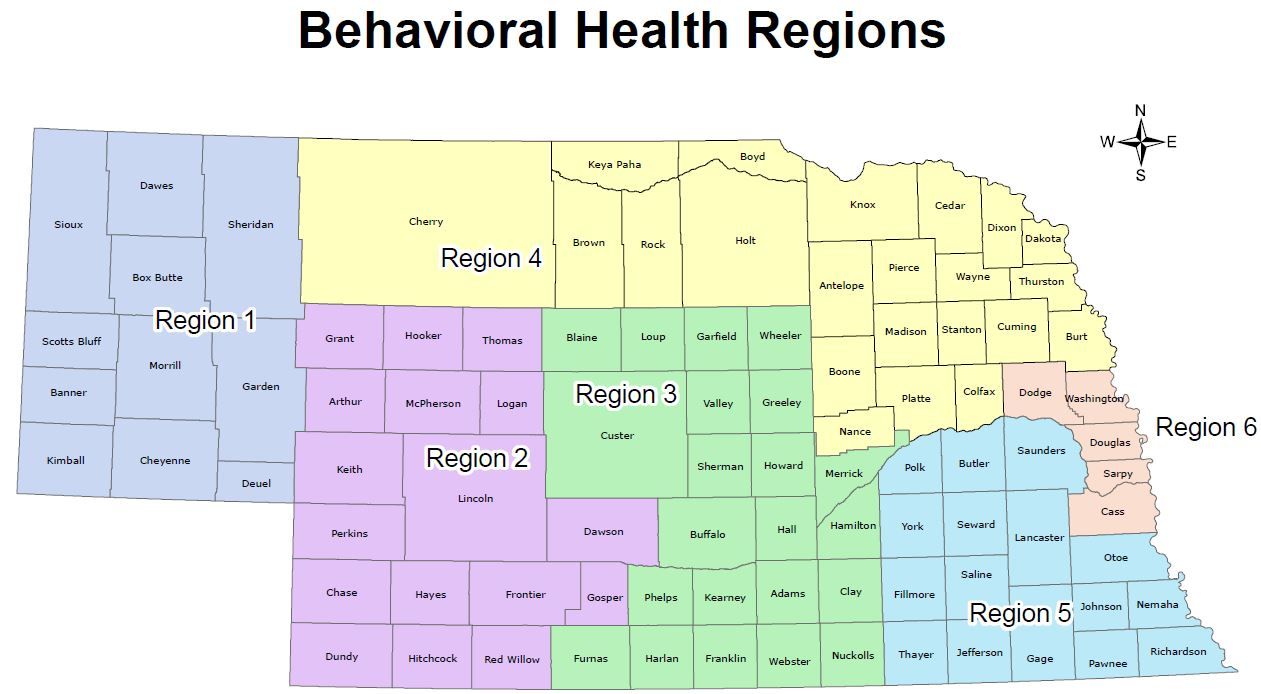 | | | |
| --- | --- | --- |
| Region 1 | (308) 635-3173 | http://region1bs.net |
| Region 2 | (308) 534-0440 | www.r2hs.com |
| Region 3 | (308) 237-5113 | www.Region3.net |
| Region 4 | (402) 370-3100 | www.region4bhs.org |
| Region 5 | (402) 441-4343 | www.region5systems.net |
| Region 6 | (402) 444-6573 | www.regionsix.com |
Source: Nebraska Department of Health & Human Services (NDHHS). For updated information, visit dhhs.nebraska.gov